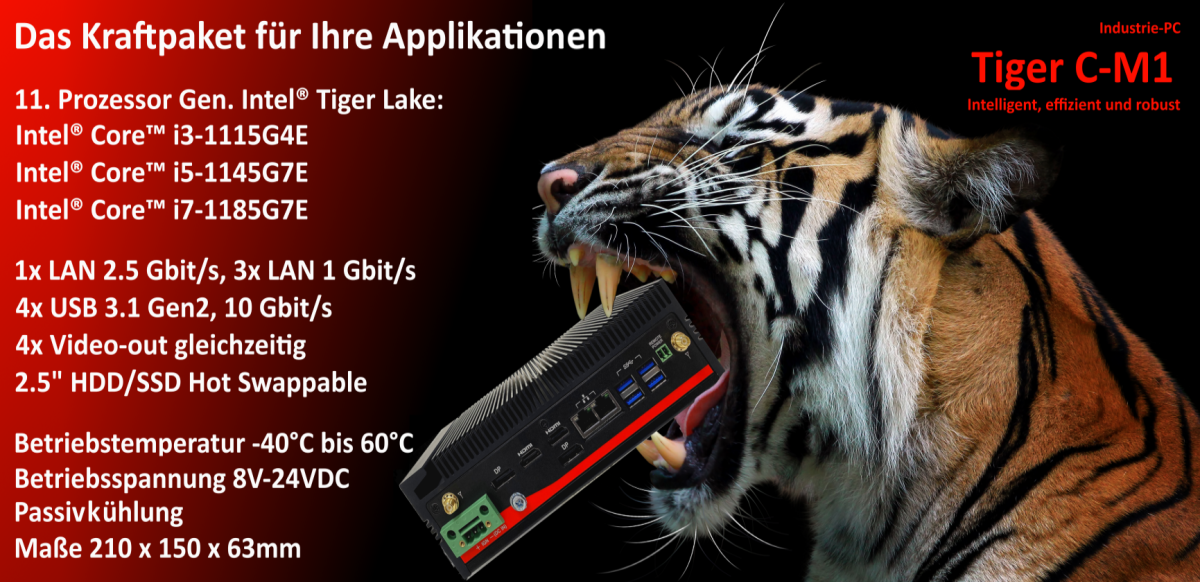 Intelligent, effizient und robust sind die neuen embedded Industrie-PC Modelle Tiger C-M1 und Tiger C-M2.
The DNA was given to the powerhouse by the 11th Intel® Core ™ i processor generation. The Intel® I225-LM, I219-LM and I210-IT Ethernet controllers ensure long-term high network performance. The Intel® I225-LM controller even supports a bandwidth of 2.5 Gps / s. For high-speed camera systems, for example, four USB 3.1 Gen2 interfaces, each with up to 10 Gbit / s, are available. The other two USB 2.0 interfaces can be used for the mouse and keyboard.
The Tiger C-M1 / M2 models prove their robustness in operation. The thick fur protects against freezing temperatures down to -40 ° C, while the sophisticated passive cooling concept ensures sufficient coolness at temperatures of up to 60 ° C.
The Tiger C-M1 industrial PCs are operated with 8V to 24VDC and the Tiger C-M2 with 12V to 36VDC. With the wall-mounting set, which is include, the compact tigers can be placed almost anywhere. A DIN rail mounting set is also available, as an option. If the installation situation offers little space, the side mounting set can be used. Thereby are the required space will only 70 x 220 mm2.